Thu., Nov. 10, 2011, 9:12 a.m.
Kerri: Seeking Office Not About Ego
Kerri Thoreson: I ran for mayor of Post Falls in 2001 and got my clock cleaned by Clay Larkin who was serving as the mayoral appointee after Gus Johnson was elected to the Kootenai County commission. I continued to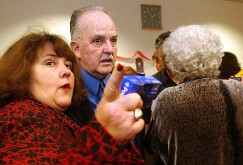 be involved in the community and served a year on the Park and Rec Commission before successfully running for a council seat in 2007. This week it was quite different to be running as an incumbant for re-election. A different level of stress when you're running on a record. For anyone who's not had their name on a ballot, it would be hard to understand that contrary to the opinion that it's all about ego, it's an exercise in humility to ask for contributions, support to place signs, walk the neighborhoods and then that all important vote on election day. When the dust settles and you've received the nod to serve, it is not only gratifying there's a profound sense of responsibility to serve well. (SR file photo of Kerri Thoreson & her father, Ron Rankin, & mom, woman with back to camera, on Ron's last day in office, Jan. 10, 2003)
Question: Anyone have a good Ron Rankin tale to tell?
---
---