Mon., Nov. 14, 2011, 9 a.m.
Hucks: Voters Had But 3 Questions
As you may know, seven of seven candidates endorsed by Kootenai County Reagan Republicans in four towns in Kootenai County won last Tuesday, including two of two in Coeur d'Alene. Reagan Republican-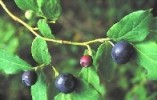 endorsed Dan Gookin told Huckleberries that Coeur d'Alene residents were interested in chiefly three things: Where do you stand on a public vote on McEuen Field changes? Are you an incumbent? Are you a Republican? You had to score three-for-three to get the surly "throw-the-bums-out" vote – yes on a public vote on McEuen Field, no on incumbency, and yes on Republican pedigree in nonpartisan City Council race. All other issues were window dressing. Yet progressive Mayor Sandi Bloem and three council members who face re-election in 2013 are moving ahead with the McEuen Field changes sans public advisory vote. In 2013, Bloem & Co. may learn how the British cavalry felt in Alfred, Lord Tennyson's poem, "Charge of the Light Brigade"/DFO, SR Huckleberries. More here.
SR weekend columns:
---
---