Mon., Nov. 14, 2011, 1:28 p.m.
Lutefisk, Anyone?
It's repulsive to some. Others find it to be a fond flashback to their youth. While some people just avoid lutefisk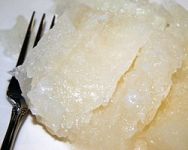 all together. More than 200 people indulged in the Norwegian treat of lye-cured cod on Sunday afternoon. "I was raised on it. We had it every holiday," said Dennis Huck, president of the Sons of Norway Hovedstad Lodge #4-528. "It's one of the foods I love," he said. A Norwegian-American saying is that about half the Norwegians who immigrated to America came in order to escape the hated lutefisk, and the other half came to spread the gospel of lutefisk's wonderfulness/Angela Brandt, Helena Independent Record. More here. (Wikipedia photo: serving of lutefisk)
Question: Has anyone out there eaten lutefisk? Reaction?
---
---