Tue., Nov. 15, 2011, 9:10 a.m.
Gabby Giffords Appears On 20/20
Like millions of others who watched Diane Sawyer interview Gabrielle Giffords on 20/20 last night, I was struck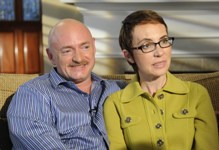 by just how painstaking the journey is during recovery from a traumatic brain injury. From my previous reporting, I knew that it involved eight hours a day of intense physical and speech therapy, but until I saw it in action, I had no idea what patients go through. Giffords, a Congresswoman, was shot at a constituent event in Tucson, but thousands of servicemen and women are going through the same rehabilitation process after getting wounded by gunfire or a hidden land mine. Thousands more Americans have brain injuries from car accidents or getting hit too hard from a football game/Deborah Kotz, Boston Globe. More here. (ABC photo: U.S. Rep. Gabrielle Giffords and husband Mark Kelly are interviewed by Diane Sawyer on ABC's 20/20)
Question: Are you inspired or deeply saddened by Gabrille Giffords struggle to recover from her violent attack?
---
---