Tue., Nov. 15, 2011, 3:47 p.m.
Thompson Juror: 'A Police Coverup'
The forewoman of the jury that convicted Officer Karl F. Thompson Jr. said none of the jurors brought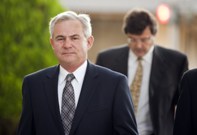 information to deliberations from media reports, as alleged by defense attorneys seeking a new trial. Diane Riley, 57, of Ellensburg, granted an interview with The Spokesman-Review after first contacting the newspaper in an e-mail Monday to voice her concerns about allegations made by defense attorney Carl Oreskovich that jurors may have been exposed to television reports that indicated Otto Zehm was mentally ill – something U.S. District Court Judge Fred Van Sickle barred from the trial. Riley said no juror mentioned anything about gleaning information from media accounts and that the jury decided the case based only on the information presented at trial/Thomas Clouse, SR. More here. (SR file photo)
Question: How would you feel about your department if you were a Spokane police officer trying to do your best to serve the community?
---
---