Wed., Nov. 16, 2011, 8:13 a.m.
Richert: Execution Ruling Right
On Monday, it wasn't U.S. Magistrate Judge Ron Bush's job to rule on the merits of a death penalty law. That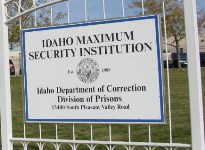 question falls to Idaho's Legislature and its governor. Nor was it Bush's job to determine whether capital punishment is constitutional. Paul Ezra Rhoades, the convicted mass murderer facing a Friday execution date, is not disputing that point. Rhoades instead argued, through his attorneys, that Idaho's method of lethal injection is unconstitutional — suggesting that the state's execution team lacks the training to mete out this sentence without inflicting cruel and unusual punishment. The question before Bush was just that narrow, and just that clinical. Viewed within those constraints, he got it right/Kevin Richert, Idaho Statesman. More here. (AP file photo)
Question: Is there a more humane way to execute in this country than lethal injection?
---
---