Thu., Nov. 17, 2011, 8:34 a.m.
Media Wants To View Entire Execution
The Idaho Department of Correction says it will not allow media witnesses to view the entire execution of Paul Ezra Rhoades, and two separate groups are protesting the policy. Rhoades is scheduled to die by lethal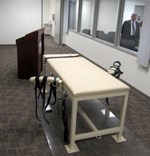 injection Friday, making him the first person to be executed under Idaho's new lethal injection guidelines. Prison officials say to maintain Rhoades' dignity, they won't allow witnesses to view him being restrained or having the IVs inserted. They also said changing the procedure now could be disruptive. But a group of Idaho news organizations say that policy conflicts with a 2002 federal court ruling that found the public, through the media, must be allowed to view executions in their entirety. The news organizations have asked the state to reconsider/Rebecca Boone, AP. More here. (AP file photo of Idaho execution chamber)
Question: Should the media be allowed to witness the entire execution of Paul Ezra Rhoades?
---
---