Thu., Nov. 17, 2011, 1:28 p.m.
Poll: More Like Tea Party Than OWS
The Occupy Wall Street movement is not wearing well with voters across the country. Only 33% now say that they are supportive of its goals, compared to 45% who say they oppose them. That represents an 11 point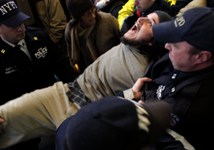 shift in the wrong direction for the movement's support compared to a month ago when 35% of voters said they supported it and 36% were opposed. Most notably independents have gone from supporting Occupy Wall Street's goals 39/34, to opposing them 34/42. Voters don't care for the Tea Party either, with 42% saying they support its goals to 45% opposed. But asked whether they have a higher opinion of the Tea Party or Occupy Wall Street movement the Tea Party wins out 43-37, representing a flip from last month when Occupy Wall Street won out 40-37 on that question/Public Policy Polling. More here. (AP photo: Occupy Wall Street protester is arrested near The New York Stock Exchange in New York today)
Question: Are you surprised that Tea Party is now better liked than Occupy movement?
---
---