Thu., Nov. 17, 2011, 4:17 p.m.
Sims Upset w/LCDC Rent Income
According to records obtained by IdahoReporter.com, the Lake City Development Corporation (LCDC), Coeur d'Alene's urban renewal agency, is bringing in more than $14,000 each month in rental income from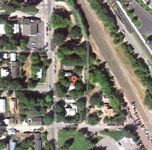 residential and commercial properties it owns. One LCDC official says the practice is common, but an area state lawmaker (state Rep. Kathy Sims, R-CdA, of course) wants the agency to sell the properties immediately. Tony Berns, LCDC director, wrote in a letter to IdahoReporter.com that his agency is holding onto the properties because it has strategic plans for the land on which the houses and businesses sit. "As practiced across the country, one of the key tenets of urban renewal/redevelopment is the acquisition of and assemblage of real estate located in key strategic areas identified for future public/private redevelopment purposes," Berns wrote/Dustin Hurst, Idaho Reporter. More here. (Idaho Reporter photo: LCDC owns several rental properties along Park Drive, near NIC)
Question: Are you surprised that Rep. Sims is bedeviling LCDC re: earning rental income from residential & commercial properties it owns? Seems to me that the agency is acting responsibly.
---
---