Thu., Nov. 17, 2011, 9:15 a.m.
Vet Held For Fixing Upside-Down Flag
Richard Sciascia is a patriotic guy who knows how to treat an American Flag. So the 33-year-old Iraq War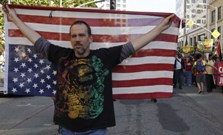 veteran, who was medically retired due to combat injuries, couldn't stand by and do nothing when he saw Old Glory hanging upside down in distress. Especially not along Government Way, at Hayden Avenue, in the city he adopted as his home in 2009 because of its patriotism and conservative values. "Hundreds of people saw the flag in that position all day long," Sciascia said. "We've gotten to the point where some people just turn a blind eye to things and expect other people to act and fix things"/David Cole, Coeur d'Alene Press. More here. (AP file photo for illustrative purposes: Occupy Oakland protester holds an upside-down flag earlier this month)
Question: The story goes on to say thqat Sciascia was held by a deputy for 45 minutes, after someone called to report his attempt to properly fix the flag. Should he have been arrested or applauded?
---
---