Fri., Nov. 18, 2011, 8:20 a.m.
Adams Ready To Join CdA Council
Steve Adams looks you in the eye when you're speaking, smiles often - even if you're disagreeing - and never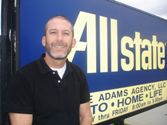 seems to raise his voice. He's even apologetic when the phone rings inside the Allstate insurance agency he bought from his father in 2000. His dad, who taught Adams the insurance trade, and mother still live in the Pine Avenue home at the foot of Tubbs Hill where Adams and his three brothers were raised. "A block from the water," Adams says. Adams has an unshakable list of priorities, and near the top is Coeur d'Alene, a city he says he loves above most everything else. He moved away once, as a college student, and didn't like it/Tom Hasslinger, Coeur d'Alene Press. More here. (Photo: Steve Adams Facebook page)
Question: What do you expect from Steve Adams when he joins the Coeur d'Alene City Council?
---
---