Fri., Nov. 18, 2011, 12:30 p.m.
Idaho 'Wacko' Claims To Be Jesus
The bearded Idaho wacko accused of trying to kill President Obama with a long-range rifle round thinks he is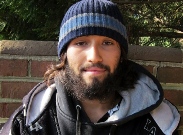 the second coming of Jesus Christ. A bizarre video of Oscar Ramiro Ortega-Hernandez, who was charged with attempted assassination on Thursday, shows the 21-year-old making a pitch to Oprah Winfrey to cast him on her show. "You see, Oprah, there is still so much more that God needs for me to express to the world. It's not just a coincidence that I look like Jesus," Ortega-Hernandez said, with his hair slicked and a crucifix around his neck, in the rambling, 20-minute video. "I am the modern day Jesus Christ that you all have been waiting for"/Aliyah Shahid, New York Daily News. More here. (AP file photo)
Question: What should be done with this guy?
---
---