Mon., Nov. 21, 2011, 9:06 a.m.
Hayden Man Still Recalls Perfect Game
When people meet Don Larsen, there's usually one thing they want to talk about. The perfect game. That's fine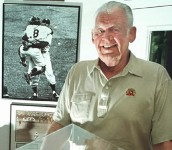 by Mr. Larsen. "I think about it every day," he said Saturday. "Nobody has to remind me." The Hayden Lake man was at Tom Addis Auto Center from 10 a.m. to 1 p.m. signing pictures, baseballs and other memorabilia to raise money for Teammates for Kids. The nonprofit was started in 1999 by co-founder country superstar Garth Brooks and Bo Mitchell, son of Dale Mitchell, who was the last batter to face Larsen in Game 5 of the World Series at Yankee Stadium on Oct. 8, 1956/Tom Hasslinger, Coeur d'Alene Press. More here. (SR file photo: Don Larsen with the ball, glove, shoes and cap that he wore on the day in 1956 when he threw a perfect game for the New York Yankees in the World Series that year)
Question: What's your all-time favorite Major League Baseball moment?
---
---