MONDAY, NOV. 21, 2011, 8:44 A.M.
Hucks: Falling Below Huetter Line
Five of the 13 incorporated towns in Kootenai County fell below the electoral "Mendoza Line" on Election Day, Nov. 8 – with voter turnouts of less than 20 percent. The Mendoza Line, for those of you who don't follow Major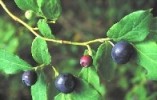 League Baseball, represents a dismal batting average of .200 – or about the career average of former Seattle Mariner Mario Mendoza. A .200 Mendoza Line average translates to 20 percent in terms of voter turnout. Tiny Huetter, squeezed between Garagetown and the upscale Mill River subdivision on the Spokane River, fell well below the Mendoza Line, with only four registered voters of 40 (10 percent) voting, including only two in the uncontested mayor's race. Three towns fell below the "Huetter Line" – Spirit Lake, at 9.8 percent; Athol, at 9.4 percent; and Hauser at a woeful 6.9 percent/DFO, SR's Huckleberries. More here.
SR weekend columns:
---
---