Mon., Nov. 21, 2011, 5:20 p.m.
Tebow's Religious Talk Bugs Plummer
Broncos quarterback Tim Tebow is a Christian, as he rarely misses an opportunity to say. Former Broncos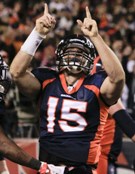 quarterback Jake Plummer says he's heard it enough from Tebow that he doesn't need to hear it any more. In an interview with 910-AM in Phoenix, Plummer said that he thinks highly of the way Tebow is winning games in Denver, but he wishes Tebow would cool it on turning post-game interviews into an opportunity to proselytize. "I wish he'd just shut up after a game and go hug his teammates," Plummer said, via SportsRadioInterviews.com. "I think that when he accepts the fact that we know that he loves Jesus Christ then I think I'll like him a little better. I don't hate him because of that, I just would rather not have to hear that every time he takes a good snap or makes a good handoff"/Michael David Smith, NBC Sports. More here.
Question: Does Tim Tebow's witness for Jesus Christ bug you?
---
---