Tue., Nov. 22, 2011, 2:40 p.m.
Edit: Supercommittee Flames Out
The 12-person Congressional "super committee" tasked with reducing our national debt has thrown in the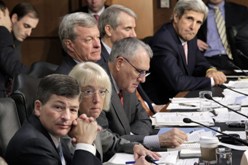 towel. Out of the six Republicans and six Democrats, not one would break party lines to agree on a plan. Are we surprised? Not a bit. Disgusted? Absolutely. Predictably, our bull-headed representatives are already angrily pointing fingers across the aisle. Republicans call out Democrats who refuse to chop any entitlement programs; the Democrats say that Republicans refuse to quash any of the tax breaks benefiting the nation's rich. We deserve better/Twin Falls Times-News. More here. (AP file photo of part of supercommittee)
Question: Does the failure to reach agreement by the supercommittee underscore the possibility that the U.S. Congress/American political system is broken?
---
---