Occupy Main Street: Shop Locally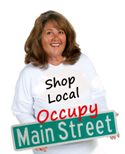 On her Facebook wall, Post Falls Councilwoman Kerri Thoreson advocates for shopping local: "Why shop local? Local businesses pay taxes, provide paychecks, donate and contribute to organizations and events throughout the year. If not for local businesses who would be donating to the auctions, raffles, scholarships, grad night parties, senior centers, charitable causes, youth sports sponsorships etc., etc.? This Christmas season make your gift giving pay it forward in our communities ... SHOP LOCAL!"
Question: We discussed this a little Monday. What percentage of your gift shopping do you do locally? In Spokane? Online? What would cause you to shop more locally?
---
---