Tue., Nov. 22, 2011, 5:06 p.m.
Oregon Guv Won't Allow Execution
Gov. John Kitzhaber (pictured) announced today he will not allow the execution of Gary Haugen -- or any death row inmate --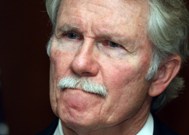 to take place while he is in office. The death penalty is morally wrong and unjustly administered, Kitzhaber said. "In my mind it is a perversion of justice," he said at an emotional news conference in Salem. The governor cited his constitutional authority to grant a temporary reprieve for Haugen, in effect canceling the planned Dec. 6 lethal injection of the twice-convicted murderer. Haugen waived his legal appeals and has been preparing for the execution, which would have been Oregon's first in 14 years/Helen Jung, Oregonian. More here. (AP photo)
Thoughts?
---
---