Wed., Nov. 23, 2011, 10:55 a.m.
White House Garlicmobile To Spokane
Northside garlic lovers have a new reason to rejoice this holiday season: They, too, now have their own garlic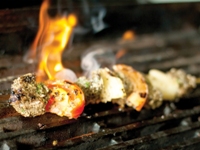 paradise. Last week, Raci Erdem, owner of Post Falls' White House Grill and the Oval Office, and south Spokane's West Wing, opened a stationary food truck — The Garlic Mobile — on a busy stretch of North Division. In case you're not familiar with Erdem, he specializes in Mediterranean cuisine with a heavy dose of garlic. It's hard to miss the Garlic Mobile. For one thing, the banner is visible from blocks away. And then there's the smell. Step out of your car, and one whiff will tell you that you're in the right place/Kristin Harrington, Inlander. More here. (Inlander photo: Mike McCall)
Question: How often do you eat at the White House/Oval Office? Do you recommend it to friends?
---
---