Mon., Nov. 28, 2011, 2:17 p.m.
UCLA Wants Boise State's Petersen
Boise State's Chris Petersen will be the first coach UCLA Athletic Director Dan Guerrero will approach about the Bruins' football job, according to influential people with knowledge of the situation who are not authorized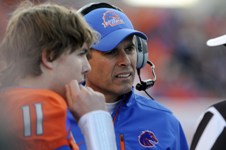 to speak publicly on the matter. Guerrero, who on Monday announced the firing of Rick Neuheisel, is expected to make a trip to Boise to meet with Petersen. UCLA is believed to be able to offer a contract worth more than $3 million annually that includes donations from boosters. Plans to refurbish the Bruins' practice facility and a commitment of about $2 million for assistant coaches are expected to be part of the package, accord to one person close to the situation/Los Angeles Times. More here. (Charlie Litchfield's Idaho Press-Tribune photo: Boise State head coach Chris Petersen and Kellen Moore (11) talk with an official during the TCU game.)
Question: Can Boise State keep winning without Petersen?
---
---