Wed., Nov. 30, 2011, 8:16 a.m.
Blanchette: Can WSU Land Big Dog?
So if Mike Leach isn't the next football coach at Washington State, where will the collective emotional crash fall on the Jeff-Tuel's-shoulder/Connor-Halliday's-liver scale? We got a taste of it Tuesday, when all the go-to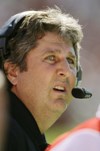 media for preposterous rumor – Twitter, Facebook, iPhone and the backyard fence – had Paul Wulff's firing augmented by arrival via private jet of Cougar fandom's most wanted, the charismatic litigant late of Texas Tech. Yes! Bill Moos is going to announce the new coach – Leach – as he dismisses the old one! Raise the flag! Make those 2013 Rose Bowl reservations now! And a private plane from points east did indeed land at Pullman-Moscow Regional shortly after noon. Open swung the cabin door. Out came … well, a couple with more ties to the AARP than the NCAA. Good thing no one made banners and sent out the marching band/John Blanchette, SR. More here. (AP file photo of former Texas Tech coach Mike Leach)
Question: Do you think WSU can attract a big dog to take over football coaching duties?
---
---