Sat., Oct. 1, 2011, 6:20 a.m.
Ex-Bronco Kicker Puts Past Behind Him
There is at least one Boise State fan who hasn't spent time worrying about the end of last year's 34-31 overtime loss to Nevada. The man at the center of the action in Reno. Kicker Kyle Brotzman missed a game-winning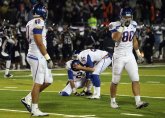 26-yard field goal attempt at the end of regulation and a 29-yard attempt just moments later in overtime. But Brotzman, who is back in the Treasure Valley after kicking for the Utah Blaze of the Arena Football League this summer, isn't dwelling on the misses as Nevada makes a trip to Bronco Stadium — the first meeting between the teams since that fateful night in November. Brotzman, the all-time leading scorer among kickers in FBS, is coaching kickers at Rocky Mountain High, refereeing high school soccer games and planning to return to the Blaze next season. Brotzman made 41-of-48 extra-point attempts and 1-of-2 field goal tries in six games with Utah/Brian Murphy, Idaho Statesman. More here. (Cathleen Allison's AP file photo -- Kyle Brotzman reacts after missing a 29 yard field goal attempt during overtime against Nevada last Nov. 26, 2010.)
Question: What was the worst flub by a player from a team that you root for?
---
---