Mon., Oct. 3, 2011, 9:05 a.m.
Adams Calls For City Staff Layoffs
In a presentation to the Kootenai County Pachyderm Club Friday morning, Coeur d'Alene City Council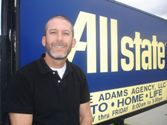 candidate Steve Adams said the city staff of 350 employees was up to 100 jobs too many. All this pased on an article published by the Ludwig von Mises Institute, an Austrian school of economics and libertarian political and social theory. Reporter Tom Hasslinger of the Coeur d'Alene Press quotes Adams as saying: "That doesn't mean my top priority is going to be to chop 100 jobs right away, but it's something to look at," said Adams, following a Seat 5 candidate debate Friday morning, where he announced his stance. "Maybe we could trim 25 or 50 (positions.)" You can read the entire story here. (Facebook photo of Steve Adams)
Question: What do you make of a political candidate basing a call of at least 25 to 50 layoffs of city staff on an Austrian libertarian polical theory?
---
---