Mon., Oct. 3, 2011, 8:14 a.m.
Tofflemire Paid Price To Play In NFL
In his Sunday column, John Blanchette/SR discussed the ultimate price that former, indestructible Post Falls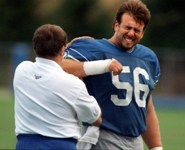 Trojan star Joe Tofflemire paid to play in the NFL. Tofflemire died last week at his home at age 46. His brother, Paul, and the extended family weren't surprised as a result of the toll that the violent world of pro football took on his brother's body. Blachette reports: "A study in the 1990s by the National Institute of Occupational Safety and Health noted that NFL linemen had a 52 percent greater risk of dying from heart disease than the general population. In 2006, the St. Petersburg Times reported while average life expectancy in the United States was nearly 78 years, the average for NFL players was 55 – 52 for linemen." Then, Blanchette quotes Paul Tofflemire as saying: "The NFL stands for 'Not For Long. It's a violent game with a cost." (SR file photo: former Seattle Seahawks center Joe Tofflemire reacts as a trainer checks his shoulder in training camp in July 1995.)
Question: Can you enjoy NFL football as much, knowing that the players are risking shorter lives for their moments of glory?
---
---