Wed., Oct. 5, 2011, 9:30 a.m.
Costco Raising Memberships $5
Costco Wholesale Corp.'s fiscal fourth-quarter net income climbed 11 percent as the wholesale club operator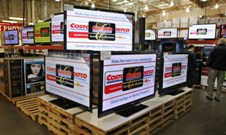 made more money on membership fees and saw its sales rise. The Issaquah, Wash., company also said Wednesday that it will raise annual membership fees starting next month. Costco's net income rose to $478 million, or $1.08 per share, for the period ended Aug. 28. That's up from $432 million, or 97 cents per share, a year earlier. ... Costco said that it will raise annual membership fees by $5 to $55 for U.S. individual, business and business add-on members as well as Canada business members beginning Nov. 1. Executive membership annual fees will also increase in the U.S. and Canada to $110 from $100/AP via King5. More here. (AP file photo)
Question: Are you a Costco member? Do you mind paying extra money for your Costco membership?
---
---