Wed., Oct. 5, 2011, 12:13 p.m.
High Noon: Occupy Moscow Today
Taking a page from the protests on Wall Street over the last several weeks, a local group of protesters plan to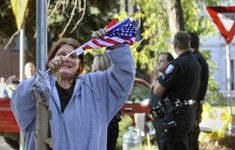 take to the streets of Moscow this afternoon. A Facebook event called Occupy Moscow has at least 38 people scheduled to attend its protest of corporate America with about a half hour before its scheduled noon start. Protesters are anticipating taking over Moscow's Friendship Square until 7 tonight. Similar protests are planned around the state today, including in Boise, where The Associated Press reports dozens of people will take to the streets of downtown to protest against Wall Street/Brad Gary, via Lewiston Tribune Twitter. More here. (Dan Pelle SR photo: Jessica McPhail, of Occupy Spokane, tearfully tears down signage, ordered by the Spokane Police Department, near the Spokane Club Sept. 30)
Question: Izzit just me, or is this Occupy Wall Street one of the lamest. Protests. Ever?
---
---