Wed., Oct. 5, 2011, 2:42 p.m.
Vets: Iran, Afghanistan Not Worth It
America's veterans are proud of their military service, but in a new report published Wednesday, they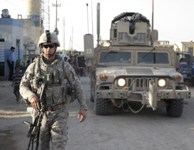 expressed ambivalence about the wars in Afghanistan and Iraq.In a new Pew Research Center report on war and sacrifice, half of post-9/11 veterans said the Afghanistan war has been worth fighting. Only 44% felt that way about Iraq, and one-third said both wars were worth the costs.Some of those costs were outlined in the Pew study, which comes out as the United States marks the 10th anniversary Friday of the Afghanistan conflict, the longest-running war in the nation's history/Moni Basu, CNN via KXLY. More here. (AP file photo of soldier in Iraq)
Question: Are you OK with our current level of involvement in Afghanistan and Iraq?
---
---