Thu., Oct. 6, 2011, 10:01 a.m.
Adams 'Right Wing Christian Wacko'?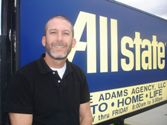 One more thing before I leave Coeur d'Alene City Council candidate Steve Adams today. After the meeting, I asked Adams about the introduction he used to describe himself to the 155 other North Idaho Patriots for Ron Paul 2012 on the group's Web page: "I am a temperamental, fundamental, right wing, Christian wacko and don't want to miss out on any action." He said he'd written that in jest. But he was able to quote it from memory when I asked him about it. Adams was the only one who mentioned God in the Coeur Group candidates' forum last night, opening his remarks with "I thank God for the freedom to do this."
Question: How would you describe yourself and your life's philosophy in a sentence?
---
---