Thu., Oct. 6, 2011, 2:38 p.m.
Westboro To Protest Jobs Funeral
Westboro Baptist Church announced plans Wednesday night to protest Steve Jobs's funeral, sending the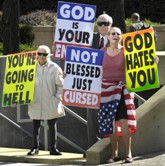 message out. . .wait for it. . . via Twitter for iPhone. Margie Phelps, daughter of the small church's founder and the lawyer who represented the church during their First Amendment case at the Supreme Court, (which Westboro won,) was among the Phelps family members to use Apple products to Tweet about the death of the Apple co-founder. "Westboro will picket his funeral.He had a huge platform; gave God no glory & taught sin," Margie tweeted Wednesday night on her iPhone/Elizabeth Tenety, Washington Post. More here.
Surprised?
---
---