Fri., Oct. 7, 2011, 1:21 p.m.
Richert: Labrador's A Natural
Thursday was another busy day in the limelight for Idaho Rep. Raul Labrador. After the 1st Congressional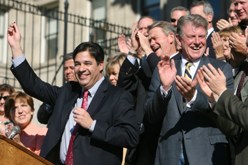 District Republican called on Attorney General Eric Holder to resign, the Los Angeles Times and the D.C. bureau of the Associated Press picked up on the angle for their stories on the Operation Fast and Furious fallout. Fox News also came calling for Labrador. Not bad for a freshman lawmaker from Idaho? No. Pretty remarkable for a freshman lawmaker from Idaho. And it shows that Labrador has the keenest political instinct of any elected official in Idaho. I'm not calling Labrador a natural. But he's close/Kevin Richert, Idaho Statesman. More here. (Raul Labrador holds up a "beat Pelosi" button on Election Day 2010)
Question: Funny, I was thinking this week that Labrador gets a heckuva lot of attention for a Tea Party congressman living in a flyover red state. Do you agree that he's a natural when it comes to politics?
---
---