Wed., Oct. 12, 2011, 1:22 p.m.
Blackwell Launch To Shut For Season
The Bureau of Land Management's Blackwell Island boat launch will close for the season on Sunday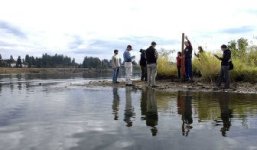 evening (Oct. 16) . The popular launch site, located on the south side of the Spokane River, has been in operation for nine seasons. Blackwell Island recreation area will also be closed to day-use activities after Sunday. The main gate will be closed for the season and toilet facilities winterized. The site is a popular area for walking, picnicking and wildlife viewing during the summer season. Blackwell Island typically opens in late May dependent upon lake water levels/Rich Landers, Outdoors.
Question: Which North Idaho boat launch do you use? And/or: Which is the best launch in North Idaho?
---
---