Wed., Oct. 12, 2011, 11:28 a.m.
Post Falls Firemen Deliver Free Pizza
As part of National Fire Prevention Week, off-duty firefighters have teamed up with Domino's in Post Falls to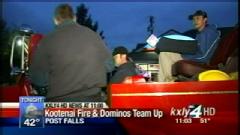 help make sure that people in the area have fully functioning fire alarms. If they do, their pizza is free."We are here to check your smoke detectors. If you would like us to and if they are working Domino's has graciously picked up your tab for your pizza," Troy Speziale with the Kootenai County Fire Department said. The arrival of the firefighters in a 1940s fire truck caught some Domino's customers, like Ryan Matheny, by surprise."We decided not to cook tonight, then you got 5 people by your door, the house is a mess," Ryan Matheny said.But good news for Ryan, he got a free pizza because all of his smoke detectors worked/Kylie Cruz, KXLY. More here.
Question: When did you last check your smoke detector? Do you have a working fire extinguisher in your house?
---
---