Thu., Oct. 13, 2011, 9:05 a.m.
Ron Edinger: Didn't Know Law
Coeur d'Alene City Councilman Ron Edinger said Wednesday he's the victim of a smear campaign because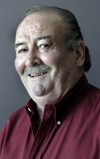 he believes the proposed makeover of McEuen Field should be put to a public vote. In a statement released to the media, Edinger said he never used his position to help three of his grandsons get jobs with the city. Two of them have worked part-time for the city for years, he said; a third worked seasonally for the streets department. "Left with no issue upon which to discredit me and a heated dissatisfaction with my position taken on McEuen, there are individuals who have chosen to go after the core of my being; my family during this campaign," said Edinger, 75, who has served on the council for more than 40 years and is running for re-election/Alison Boggs, SR. More here.
Question: Is this a case of a smear campaign? Or getting caught doing something improper? Or something in between?
---
---