Fri., Oct. 14, 2011, 9:06 a.m.
GOP Bigwig Helped Now-Banned Firm
Jonathan Parker, now executive director of the Idaho Republican Party, arranged a meeting between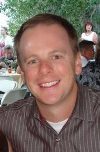 consultant Arup Patranabish and Idaho's top purchasing official shortly after GOP Gov. Butch Otter took office in 2007. At the time, Parker was president of Idaho Young Republicans and a lobbyist for the Idaho Water Users Association. He is now a possible candidate to succeed GOP Chairman Norm Semanko should Semanko be elected Eagle mayor in November. Patranabish's Boise company, AnalyzeSoft, has been disqualified from doing business with the state for one year because it allegedly double-billed the Idaho Department of Correction, charging $2 million for an inmate tracking system that remains incomplete. The disqualification period began in July/Dan Popkey, Idaho Statesman. More here. (Jonathan Parker's Facebook photo)
Reaction?
---
---