Fri., Oct. 14, 2011, 5:46 p.m.
Ryan Leaf Writes re: 1998 Rose Bowl
To the resume of former Washington State quarterback Ryan Leaf — college football star, first round NFL draft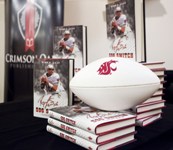 pick, pro football bust — you can add another entry: Author. Leaf has written a book about his Washington State years, focusing on the 1997 season when he led the Cougars to their first Rose Bowl in six decades and finished third in the Heisman Trophy vote. The book is part of the maturation of the 35-year-old Leaf, whose well-documented boorish behavior in his sports prime made him a national punch line. These days Leaf is all about recovery and introspection. "People didn't know who I was off the football field," Leaf said of his younger self. "I had this giant ego of an athlete, but I was self-conscious at everything else"/AP. More here. (Moscow-Pullman Daily News photo: Dean Hare)
Question: I'm currently reading "Money Ball" by Michael Lewis. It may be the best sports book I've read, including Bernard Malamud's "The Natural"? What is the best sport book you've read?
---
---