Fri., Oct. 14, 2011, 9:48 a.m.
Tea Partier Stout Takes County Job
In the conservative crucible of Idaho's far north, a tea party leader aiming to slim down government has a new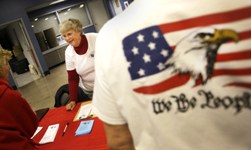 title: Government worker. Pam Stout, a tea party activist interviewed by late-night TV's David Letterman, landed a $25,000, 19-hour weekly job heading the Bonner County Property Rights Council. She's recruiting volunteers to this new arm of local government, to advise county commissioners about free-market alternatives, slashing spending and intervening in disputes with Washington, D.C. bureaucrats. Some in this region of lakes, evergreens and snowcapped mountains are responding warily to what they see as an ideologically motivated panel inside the courthouse, funded by taxpayers and blessed by elected leaders/John Miller, AP. More here. (SR file photo, of Pam Stout at Post Falls Tea Party event)
Question: What do you make of a leading light in the Tea Party movement taking a gummint job for Bonner County, to oversee property rights?
---
---