Mon., Oct. 17, 2011, 9:43 a.m.
Book: Andrus: Idaho's Greatest Guv
Cecil Andrus was just 39 when he was elected governor in 1970. It wasn't long before he calculated his next move. Chris Carlson's "Cecil Andrus: Idaho's Greatest Governor" was released Monday. Among its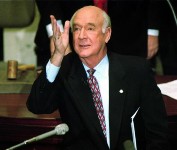 revelations is Andrus' early plan to become U.S. interior secretary. After Watergate, he figured Democrats would win the White House in 1976. But for Andrus to be in a position to take a Cabinet post, he would have to ensure a Democrat would succeed him as governor. "He left little to chance," writes Carlson. In the final weekend of the 1974 re-election campaign, Andrus shifted almost all of his pre-paid TV spots to the Democratic candidate for lieutenant governor, John Evans. Carlson assumed Andrus sought revenge against GOP nominee Vern Ravenscroft, a "turncoat" who'd switched parties after Andrus beat him in the 1970 governor's primary. Andrus was thinking ahead, not back/Dan Popkey, Idaho Statesman. More here. (AP file photo: Then Gov. Cecil Andrus waves to his family during 1994 State of the State speech)
Question: Do you consider Cecil Andrus to be Idaho's greatest governor?
---
---