Mon., Oct. 17, 2011, 8:34 a.m.
Hucks: High Cost Of Spokane Charity
Bogus. That's the word Jeff Selle, of Post Falls, uses for that $175 citation issued by a Spokane County health inspector to Riverside High mom Mary Beth Conklin for a fundraising tailgater. Selle? He's a top regional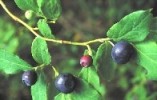 barbecuer, handling the tongs for Bent BBQ at several North Idaho events, including the third annual St. Vincent de Paul Steak Fry this summer. Specifically, Jeff tells Huckleberries: "In Idaho you can cook a charity fundraiser without having to purchase a permit, at all. And, if you are vending or catering for profit, you only pay $80 for a yearlong permit." Spokane charges $480 for a permit, whether charitable or not. Again, Jeff: "The fee is supposed to cover the cost of inspection. You can't tell me it costs $480 to inspect one of these events. It takes all of 15 minutes to check the wash stations, hot-holding and cold-holding system. I know because I have been inspected several times"/DFO, SR Huckleberries. More here.
SR weekend columns:
---
---