Tue., Oct. 18, 2011, 10:58 a.m.
Ex-NFL Player Eyes Labrador's Job
Lewiston native Jimmy Farris overcame long odds to carve out an NFL career that spanned parts of seven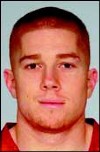 seasons - and he appears to be facing a similar challenge in his latest venture. Farris announced his candidacy for Idaho's 1st Congressional District seat, which will be on the ballot in November 2012. The 33-year-old political novice will run as a Democrat. Farris, who settled in Atlanta during his playing career, moved back to Idaho in the summer and is living in Meridian. He said he came back to his native state "with the intention to get heavily involved politically"/Matt Baney, Lewiston Tribune. More here.
Question: How hard will Congressman Raul Labrador be to beat in 2012?
---
---