Tue., Oct. 18, 2011, 11:18 a.m.
Trib: Why Rex Rammell Fascinates Us
If Rex Rammell's tale were strictly a political one, his 15 minutes of fame would be up. He lost last year's GOP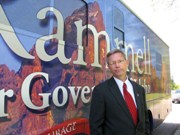 gubernatorial primary to Gov. C.L. (Butch) Otter by more than a 2-to-1 margin. He carried only two counties - Benewah and Idaho - which explains his move to the Grangeville area. Two years earlier, he did no better than 5 percent against U.S. Sen. Jim Risch, R-Idaho. In 2004, he got only 35.7 percent of the vote against state Rep. Mack Shirley, R-Rexburg. In 2002, he ran fourth in a five-way Republican primary for a seat in the Idaho House. He self-financed his campaigns while declaring bankruptcy/Marty Trillhaase, Lewiston Tribune. More here.
Question: Are you fascinated by the train wreck that has become Rex Rammell?
---
---