Tue., Oct. 18, 2011, 11:35 a.m.
Ysursa: New Districts Now Law Of Land
Idaho's new congressional and legislative districts are now in effect, Secretary of State Ben Ysursa (pictured) declared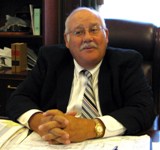 this morning after receiving the new plans from the bipartisan citizen redistricting commission. "This is now the law of the land," Ysursa said. "I for one want to applaud the commission." He said, "It took two commissions to get it done, and I appreciate that - and I know the people of Idaho do." Ysursa said the new district lines will immediately go out to the public and county clerks, so people will know which districts they're in, where they vote and who their elected representatives might be. Idaho's primary election, the first to take place with the new districts/Betsy Russell, Eye On Boise. More here.
Question: Are you happy with the new congressional & legislative districts?
---
---