WEDNESDAY, OCT. 19, 2011, 11:35 A.M.
Weighing In On 'Greatest Governor'
Monday's publication of "Cecil Andrus: Idaho's Greatest Governor" prompted a good deal of chatter about who deserves the title. Chris Carlson, author of the new book, was Andrus' press secretary. Carlson considers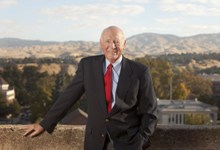 Andrus a surrogate father and offers an openly affectionate view. Steve Smylie, a former four-term GOP lawmaker from Boise, has shared a moving and until now unknown account of his dad, three-term Republican Gov. Bob Smylie. Smylie struggled with alcohol, but after he left office he dedicated one day a week to counseling alcoholics, his son says. In my story on the book Monday, I mentioned Smylie (1955-1967) and Democrat Ben Ross (1931-1937) as contenders for the "title" of Idaho's greatest guv. I should have included Republican Len Jordan (1951-1955), though his stellar reputation is also based on his U.S. Senate service (1962-73). Republican Phil Batt (1995-1999), despite serving only one term, also deserves mention for his fearless pursuit of principle/Dan Popkey, Idaho Statesman. More here. (AP file photo -- Cecil Andrus in 2001)
Question: How many Idaho governors have you personally met? Which one impressed you most?
---
---