Thu., Oct. 20, 2011, 9:23 a.m.
'Biggest Loser' Bounces Lewiston Native
Courtney Rainville (pictured in Trae Patton/NBC photo) left the set of NBC's "The Biggest Loser" Tuesday night with less than she started out with,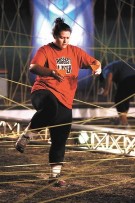 making her stint on the show a success. Rainville, 25, was eliminated from the cast during week five of the reality TV program, after spending one month at the Biggest Loser Resort. During her televised stay under trainer Dolvett Quince, Rainville lost 39 pounds. Her starting weight was 270. In her final episode, Rainville won a challenge in which the teams raced through an obstacle course carrying glasses of soda. The winner received an all-expense-paid, two-week trip to the Biggest Loser Resort for a person of their choice. Rainville chose to give the trip to her sister. At the end of the episode, Rainville's Red Team lost that week's weigh-in, having acrued the lowest percentage of weight loss. Her teammates then voted her off the show/Jennifer K. Bauer, Lewiston Tribune. More here.
Question: What's the most weight that you've lost via diet or an exercise program? Did you keep it off?
---
---