Thu., Oct. 20, 2011, 9:34 a.m.
Cindy: I ♥ My Bluetooth
I used to make fun of them. The people who walk through grocery stores, animatedly chatting with invisible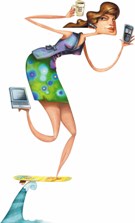 friends. The folks at movie theaters with winking blue lights behind their ears. The self-important ones who cannot disconnect from their Bluetooth devices while dining out, visiting the library or exercising at the gym. And then I became one of them. When Washington made it illegal to talk on a cellphone while driving, I was forced to join the hands-free generation and buy a Bluetooth device. You see, I do a lot of driving and I make a lot of phone calls. With the amount of kid-hauling I do, I'd never be able to schedule interviews, make appointments or catch up with friends if I confined my talk time to my scarce stationary moments. I recently discovered, however, just how talk-technology dependent I'd become when I lost my hands-free device/Cindy Hval, SR Front Porch. More here. (AP file illustration)
Question: How dependent are you on your Bluetooth?
---
---