Thu., Oct. 20, 2011, 3:36 p.m.
Ed Board Tweaks Petersen Contract
The State Board of Education on Thursday approved several tweaks to Boise State football coach Chris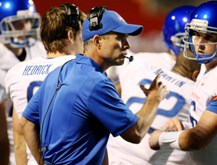 Petersen's contract. The vote was 6-0 with two board members absent. Petersen's automatic one-year extensions for every season in which the Broncos win eight games now will include a $100,000 raise, double the previous contracted amount. His bonus for a Bowl Championship Series berth (now $150,000) or a conference championship (now $100,000) has been increased by $25,000. Petersen's total compensation, including longevity bonuses and supplemental retirement contributions, will be $1.525 million this year/Chadd Cripe, Idaho Statesman. More here. (AP file photo of Coach Chris Petersen during Oct. 7 Fresno State game)
Question: For all the positive exposure & dollars that the Boise State Broncos bring to Idaho, I believe Petersen is worth every penny of his salary and automatic raises. How about you?
---
---