Thu., Oct. 20, 2011, 8:17 a.m.
Man Offers Wheelchairs For Wine Sale
When Gordon Holmes (pictured) takes the podium tonight in the Davenport Hotel's swank Isabella Ballroom, it's a given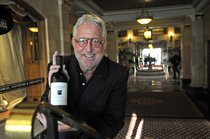 the subject of precious metals will come up. Holmes, after all, is the featured banquet speaker for the annual Silver Summit. This year's two-day confab will unite 700 investors, explorers, vendors, silver producers and metals aficionados. But here's the thing about Holmes. While the 60-year-old has been dubbed "an evangelist" for the silver-and-gold crowd, his real zeal centers on one of the most compelling charities I've ever encountered. "Wines for Wheelchairs," Holmes calls it. Here's how it works: Buy a bottle of wine from his premium Lookout Ridge Winery (www.lookoutridge.com), and Holmes will donate a wheelchair to someone in desperate need of mobility/Doug Clark, SR. More here.
Question: What is your favorite type and brand of wine?
---
---