Fri., Oct. 21, 2011, 3:48 p.m.
City Appoints Dike Tree Committee
We got the phone call the other day and an email confirmation yesterday, and we're pleased to say that KEA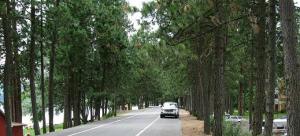 will be represented on the City of Coeur d'Alene's new ad hoc committee to deal with the dike road trees. An initial meeting will be scheduled for mid-November. Recall that a Corps of Engineers inspection is calling for removal of the 500 mature trees along the levee between North Idaho College and the waterfront. KEA has initiated a petition drive calling on the Corps to review its levee vegetation policy as applied here in Coeur d'Alene. Along with KEA, appointees to the committee include representatives from North Idaho College, the Centennial Trail, Fort Grounds homeowners, the 4-Counties Natural Resources Committee, Councilman John Bruning, and State Senator John Goedde/Terry Harris, KEA Blog. More here. (KEA Blog photo)
Question: Are you satisfied with the representation on the Dike Road tree committee?
---
---