FRIDAY, OCT. 21, 2011, 1:47 P.M.
Fischer Blasts Cain's Abortion Stand
Bryan Fischer, the former Boise pastor now with the American Family Association, is making headlines again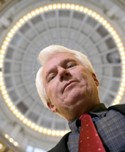 by attacking presidential candidate Herman Cain re: abortion statements. Dan Popkey/Idaho Statesman quotes Fisher from Michelle Goldberg in The Daily Beast. Writes Goldberg: "That could have come right out of the Planned Parenthood playbook," Bryan Fischer of the American Family Association says of Cain's comments. "To us, it's like somebody saying, 'I'm personally opposed to gassing Jews, but if you want to do that I'm not going to stand in your way." You can read more from Popkey here.
Question: What do you make of Herman Cain's abortion stand?
---
---