Fri., Oct. 21, 2011, 8:14 a.m.
Idaho Readies Execution Chamber
The small cell holding Paul Ezra Rhoades sits across a hallway from the room in which he is scheduled to die in less than a month. His isolation cell is quiet as a worker brings in a tray of medicine. The death chamber is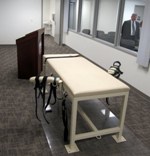 silent, save for the faint hum of fluorescent lights. It is all pristine: The cream-colored gurney unused, the wooden podium emblazoned with the Great Seal of Idaho not yet fitted with a microphone. No one has ever been killed in this room. But the Idaho Department of Correction has been practicing the motions of an execution for years, anticipating that as many as three death row inmates will be put to death here before the end of 2013. The first, 54-year-old Rhoades, is scheduled to die Nov. 18 unless he is granted clemency or a last-minute stay by the federal courts. He is already under 24-hour suicide watch in anticipation of the event/Rebecca Boone, Associated Press. More here. (AP photo)
Question: Why would you put a condemned man on 24-hour suicide watch to prevent him from killing himself prior to his execution?
---
---