Fri., Oct. 21, 2011, 9:32 a.m.
IFF: Andrus Greatest Guv? No Way
I moved to Idaho in 1995 shortly after Phil Batt took office, so I did not get to experience either of the gubernatorial administrations of Cecil Andrus. And my dealings with Andrus in his post-elected life have been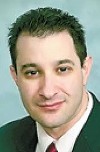 relatively benign -- a conversation here and there, mostly by phone. I have no animus toward Andrus and seems fairly personable and likable. But I get a little queasy whenever modern writers take various current or former officeholders and establish them or their myriad policies as "the greatest" anything, as former Andrus staffer Chris Carlson has done in his new book with the gushing and obviously over-the-top title "Cecil Andrus: Idaho's Greatest Governor." The book was released last Monday. No, I haven't read the book, and I'd like to promise here and now that I won't waste my time because of my distain for the title/Wayne Hoffman, Idaho Freedom Foundation. More here.
Question: Have you ever met Cecil Andrus? Tells us abou it.
---
---